Back in the late 70's and early 80's, Mick Glossop was employed as chief engineer at Virgin Records Manor Studios, and later on at the legendary Townhouse Studios in London, both of which he set up with Phillip Newell, and for which he designed the custom consoles built by UK designer Dick Swettenham at Helios Electronics. During that time he was fortunate to work on projects by Frank Zappa, Van Morrison, Camel, UFO, Public Image, L Shankar, Gary Numan, and many more.
Since then Glossop has been a freelance producer and mix engineer, based in London, but working all over the world. Recent projects have included Van Morrison's live CD and DVD of "Astral Weeks, Live At The Hollywood Bowl", Lloyd Cole's "Broken Record", Paul Carrack's "A Different Hat", and production work with Florida-based band, Sparkydog & Friends.
Nowadays, Glossop has a studio in West London, based around Pro Tools HD which also includes his collection of vintage analogue gear. I use MC2000 a lot for parallel compression, particularly on drums.He tends to work in a hybrid situation, mixing in Pro Tools, bussing internally and externally, and using many analogue processors as hardware inserts. He has a range of favorite plug-ins, including McDSP's Analogue Channel, MC2000, CompressorBank, FilterBank, ChromeTone and Synthesizer One.
Glossop works with a variety of musical styles including rock, alternative, roots, folk, jazz and blues. His clients are both bands and individual singer/songwriter artists.
"I'm best known for the diversity of my work, but I've worked with a lot of guitar-based bands, both rock and early UK punk bands. However, I also work with more mellow artists like Lloyd Cole and Paul Brady, and I have a long-term relationship with Van Morrison, covering 30 years, and 17 albums!"
"I use McDSP plug-ins a lot in both the recording process and of course during the mix. I particularly like the "analogue" style, both in the actual sound of the plug-ins, but also in the layout and visual design of the controls. It's very important that a plug-in looks good on the screen, and is clear and easy to operate. McDSP is very good at these aspects of design."
Mick Glossop is a long time McDSP power user and gives a quick run-down on how he uses some of our plug-ins.
"I use Analogue Channel, not so much as an emulation of tape or console electronics, but as a way of taming high frequency transients which, if left un-controlled, seriously affect my ability to blend instruments within a mix. This is a specific requirement when mixing material which has been recorded digitally. Tape provided this function in the "old days", but now we must find other methods, and AC is a great tool for that."
"Filterbank's F1 & F2 filters are very good for tone-shaping, especially because of the Peak control, which enables you to apply drastic levels of emphasis to any sound and completely transform its character. I don't know of any other filter/eq plug-in which does this in the same way."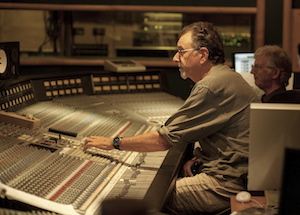 "I also use the equalizers in FilterBank for the usual sound correction chores, sweeping the bands with a narrow Q to find the problem areas. Of course, I also use it for overall tone-shaping. It's very useful that the equalizers come in several versions with greater or fewer numbers of bands. That way, you can choose the version that gives you what you need, e.g. a single band if DSP resources are tight. Flexibility is always a bonus."
"CompresssorBank's extensive selection of traditional compressor emulations provides me with a great choice when it comes to dynamic control, ranging from the most subtle to the most extreme styles."
"I use MC2000 a lot for parallel compression, particularly on drums. It's capable of savage dynamic squashing, which when used alongside the un-compressed drum bus, really brings up the energy level. It's very useful to be able to solo the individual bands in order to fine tune the range of each band."
Glossop sums up, "There is a whole range of plug-ins available for use in Pro Tools, ranging from the exotic 'sonic mutation' processors to the more functional, yet just as important functions like equalization and compression. There is a wide selection of these to choose from, most of which I find somewhat 'bland', i.e. they do the job, but have very little character. I am always drawn more to processors which put their own 'stamp' on the sound, and there has been a long history of this in the analog field, typified by the products of Rupert Neve, Focusrite, Trident, Helios, API, Valley Audio, UREI, Teletronix, DBX, Fairchild and many more. In the digital plug-in field, McDSP continues this worthy tradition."