As a world-renowned Grammy winning mixer for the likes of Beyoncé, Jason Mraz, Pink, Alicia Keys, and many others, Tony Maserati knows the sound he wants, and knows the tools he needs to achieve it. Over the years, Maserati has worked as a mixer, producer, engineer, songwriter, musician, and live sound engineer, and relied upon McDSP's FilterBank from the very beginning. "The E6 was always a staple of mine for a very, very long time."
Through his dedication and years of working with tape machines and samplers to software/hardware hybrid setups, Maserati is intimately familiar with the dedication it takes to creating a mix that supports the emotional and lyrical performance of a song. After graduating from the illustrious Berklee College of Music, he began working at Sigma Sound Studios in the '80's. "I apprenticed for four years, and then after that I was scraping on my own for another five," Maserati said of his early days in New York City.
We had an analog setup, and we needed to mimic that analog setup with the stems, so we ended up using the 6030 with a side chain input from the full mix.While having worked in the industry over several decades, Maserati has been witness to many changes to the audio industry landscape.
"When I graduated in that class of music production and engineering, that was essentially a brand new thing. But the graduating class was the people that went from being an intern at a studio to becoming second engineer. And in those days, there were lots of studios. You would all go to the same bars, because nobody had money, so we would all hang out and chat about what we were doing. The graduating class was pretty small. I think determination is a good thing, inspiration is a good thing…but I also played in a band, I wrote songs, I scraped as a musician, I did live sound every night I was in college. I would be recording my friends with whatever recording equipment I could get together. Being a music lover is not the only requirement to being a working professional in this business, and I think that students of it need to realize that."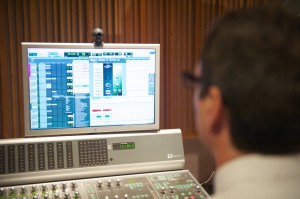 Always on the cutting edge of technology, Maserati is known for integrating the latest in software with classic hardware elements to give life and presence to every mix. "How music is delivered to me is what's changing. A lot of the producers I work with, I would say 20-35% of the producers I work with are working in their laptop, and they want it to sound right on a laptop because that's what the audience is listening for. No matter what the technological changes in the business, there are also changes in the audience and what they listen on. Nobody listens on speakers anymore, they listen on headphones, on laptops or on iPods, or on their phone. The technology is something that I keep up with and that I integrate into the way that I work."
For Maserati, the upgrade to the new AAX plug-in specification hasn't always been seamless. "There was a hiatus for me because I went to the AAX platform, and so there was a point where I was waiting for Colin to come out with his AAX. Since he has, I've been able to get back into the new stuff."
Some of Maserati's recent work needed a quality compressor, and he was able to use the latest McDSP plug-in, the 6030 Ultimate Compressor to help handle that task. "We were working on a Beyoncé track, and it needed to be stemmed out for a movie. We had an analog setup, and we needed to mimic that analog setup with the stems, so we ended up using the 6030 with a side chain input from the full mix."
With a demanding schedule full of A-list clients, Maserati can't afford to be without the McDSP plug-ins he depends on every day. "In an ever changing world of technology people like Colin and McDSP help me to stay on the cutting edge. With the new AAX format there are a lot of possibilities and McDSP is helping me capitalize on all of them."

To see Maserati's interview, visit McDSPTV. For more information on the latest work from Tony Maserati, visit http://pulserecordings.com/clients/tony-maserati.