With over 300 combined credits for film and television, award-winning re-recording mixers Scott Weber (Lost, Person of Interest, Halt and Catch Fire) and Keith Rogers (Person of Interest, Pirates of the Caribbean, Bones) have honed their skills over the years to work efficiently in today's fast paced post production environment. "If you were to look at what we do in a television show today, 20 years ago, they'd look at you and go 'You have 250 tracks in your session? Are you kidding me?' We do that all the time now" explains Weber. The ability to work at such a fast pace is due in large part to their syncopated workflow, instant recall of Pro Tools sessions on their S6 console and having the AAX DSP support of plug-ins from McDSP.
On a show like Person of Interest, the typical post production timeline takes 3 long days. "I'll start out in the morning and pre-dub the dialog and go through the show. I'll just start listening to the tracks and cleaning up any issues with noise or things that need to be fixed. I also use the NF575 noise filter a lot for noisy tracks, a lot of light hums, different kinds of things that come into production on the set," states Rogers. Having intuitive tools like the NF575 Noise Filter to fix production tracks is as important to Rogers as having a creative plug-in like FutzBox. "FutzBox is just a really cool tool. I use the FutzBox plug-in for all kinds of cool custom treatments and perspectives."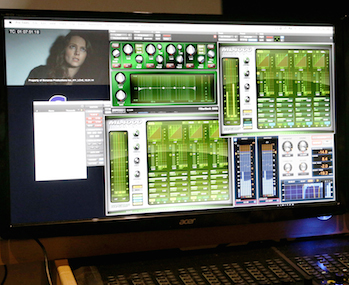 While the production dialog and ADR tracks are evaluated by Rogers on the main monitors, Weber will simultaneously start work on the sound effects and foley on headphones. "Scott and I have worked together on this show for 5 years now and we're really in sync with each other as far as our workflow. So the process is we pre-dub, then we put the dialog and effects together, and then by the time all that is put together we put the music in. And then things change again, so we have to now re-balance again based on what's happening with the musical score. So the process of the first day and a half is really getting through all of the material and getting it in shape so by the time we get to do our first playback, we've really had a chance to go through that show and make it a pretty good mix," explains Weber.
Even with a clear roadmap of getting the show dialog, sound effects and music together, Rogers admits much of what they end up doing is problem solving. "It's not always about being creative, it's about fixing problems a lot of times and making things seamless so people don't know. So people don't recognize that you're using ADR, or this scene was recorded under a freeway and it's very noisy, " reveals Rogers.
Some of Weber's favorite plug-ins for problem solving and controlling dynamics include the ML4000 Mastering Limiter and FilterBank. "We might have a scene that has a big gun battle going on, but they have a conversation going on at the same time. What I like about the ML4000 is it also combines a peak limiter. So having the peak limiter and the multi-band compressor combination really gives you a lot of control over not only multi-band compression, but controlling level. Which is huge for me for sound effects where I can hit it really hard if I want to."
I use the FutzBox plug-in for all kinds of cool custom treatments and perspectives.
For Rogers the path toward audio post production came by way of his love for playing music. "I'm a guitar player and I love music and I used to love seeing pictures of recording studios and consoles and those kinds of things…I went through a recording school and ended up learning about post production for film and television…that led me into a path for post production." His initial foray into the industry was over 20 years ago at EFX Systems in Burbank. "I started out as a recordist, worked my way up into supervising and eventually into mixing. From there I went to become a staff mixer at Walt Disney Studios for 15 years and since then I've been an independent re-recording mixer."
Weber was similarly drawn to post production after a brief stint in music. "I had an experience when I was in high school, we went to a recording studio and once I was in place where they were doing professional music with real microphones…I wanted to do that sort of thing." Recording at home with multi track and reel to reel tape machines spurred Weber into learning more about the industry and eventually led to his attending Dick Grove School of Music. After graduating from the recording and engineering program he started at a Los Angeles recording studio and began working up the ranks to eventually become first engineer.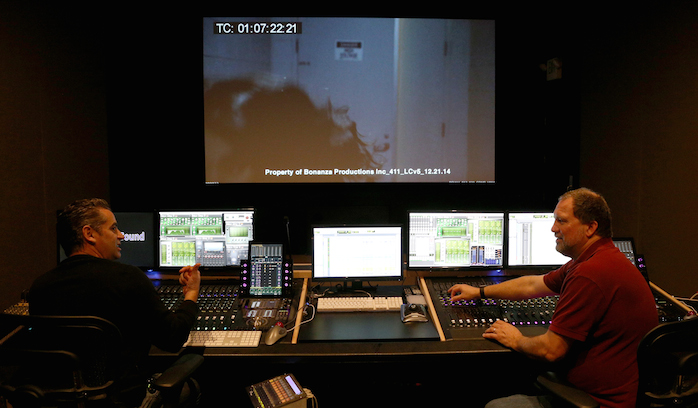 Soon he discovered his love for the technical aspects of audio were better suited for post production. "I liked the samplers, the machinery, and the synchronizers and all those sorts of things. That process sort of led me into doing more post production work." He transitioned out of music production at a recording studio into post production when he went to B&B Sound in Burbank as a sound effects editor. From there he moved to Disney as a sound editor and spent 21 years there refining his craft and working in multiple roles within the audio post production domain. Currently working as an independent re-recording mixer, Weber knows exactly how to measure the success of his work on shows like Person of Interest. "What we do, if it goes unnoticed, that means we've done our job."
Weber and Rogers rely upon professional audio tools from McDSP to fulfill the vision of the producers for shows watched by millions of viewers every week. Having the AAX DSP support on the latest Avid consoles like the S6 is a must for the incredibly high tracks counts and quick turnaround times for each episode. "For me, they just make sense, and they sound great," sums up Rogers.
Click on the links below to watch how Scott Weber and Keith Rogers use the ML4000, FutzBox and FilterBank in a sequence from Person of Interest.