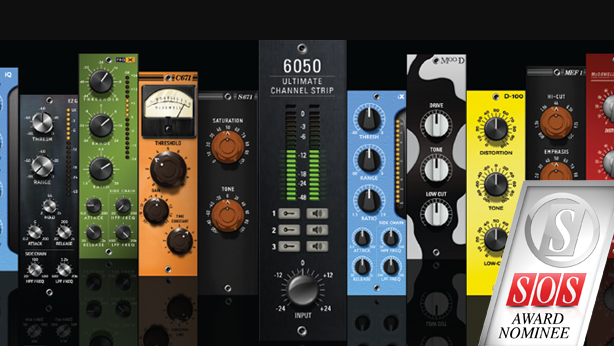 Mountain View, CA – October 14, 2016
6050 Ultimate Channel Strip Nominated for 2016 SOS Award
McDSP is proud to announce the 6050 Ultimate Channel Strip plug-in has been nominated for a 2016 SOS Award in the category of Software Plug-in. Nominations were selected by the SOS editorial team and writers.
The 6050 Ultimate Channel Strip has everything you need to make your mix sound great. All the modules from the award-winning 6020 Ultimate EQ and 6030 Ultimate Compressor plug-ins are included. Additional modules include gates, expanders, signal saturators, and specialized filters.
The 6050 Ultimate Channel Strip has input and output stages, wrapped around 3 module bays in which any of the 28 modules can be inserted. Easily drag and drop any module to rearrange the signal flow of your channel strip. A module selector panel allows quick auditioning of equalizers, compressors and additional effects. Like the original 6020 and 6030 plug-ins, each new module in the 6050 draws on classic and modern designs over the last four decades. Operation is simple and intuitive, and the sound quality is what professionals worldwide have come to know in McDSP plug-ins.
Voting is open now and will close at the end of November. Winners will be announced in time for the Winter NAMM show in January.
More information is available at www.sosawards.com.
Company Statement
McDSP is an innovative Silicon Valley audio software company founded in 1998 by Colin McDowell. Beginning with the release of the pioneering equalizer plug-in FilterBank, McDSP has continued producing industry acclaimed and award-winning software titles. McDSP audio signal processing technology can be found in pro audio plug-ins for popular digital audio workstations including Pro Tools and Logic, the Avid VENUE and S3L live sound systems, as well as licensed algorithms in the gaming industry. McDSP audio algorithms are used by companies such as Activision, Bioware, and Microsoft, and in consumer products like the LouderLogic and Retro Recorder iPhone applications.