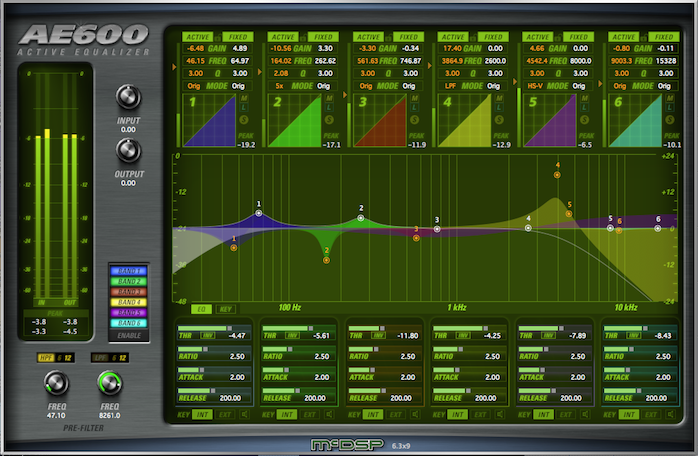 Mountain View, CA – October 21, 2016
AE600 Active Equalizer Now Shipping
McDSP is proud to announce the release of the AE600 Active Equalizer. The AE600 is a greatly improved version of McDSP's TEC Award Nominated AE400 Active Equalizer, with more bands, more EQ and filtering options, and an improved user interface.
The AE600 has 6 completely independent fixed and active EQ bands. Every fixed and active band has its own gain, frequency, Q, and EQ mode controls. EQ mode options include parametric, proportional Q parametric, 5x Q parametric, Baxandall shelving EQ, vintage styled EQ, X-style shelving EQ, Baxandall shelving EQ plus filtering, and high and low pass filtering. All bands are completely overlapping and can use the input signal or selected side chain inputs to trigger the active EQ response. Each active band has its own threshold, attack, release, and ratio controls. Additional features include pre-filtering, a larger display, more metering options, and algorithm optimizations.
The AE600 is available at an introductory price of $149 Native and $249 HD until November 30th, 2016. AE400 users may purchase the AE600 for only $49 until November 30th, 2016.
More information is available at www.mcdsp.com.
Company Statement
McDSP is an innovative Silicon Valley audio software company founded in 1998 by Colin McDowell. Beginning with the release of the pioneering equalizer plug-in FilterBank, McDSP has continued producing industry acclaimed and award-winning software titles. McDSP audio signal processing technology can be found in pro audio plug-ins for popular digital audio workstations including Pro Tools and Logic, the Avid VENUE and S3L live sound systems, as well as licensed algorithms in the gaming industry. McDSP audio algorithms are used by companies such as Activision, Bioware, and Microsoft, and in consumer products like the LouderLogic and Retro Recorder iPhone applications.