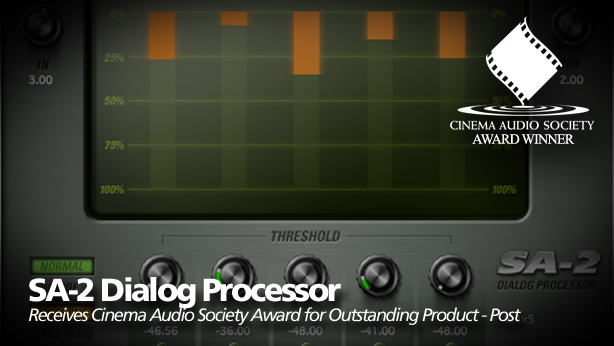 Mountain View, CA – February 23, 2017
SA-2 Dialog Processor Wins Cinema Audio Society Award
McDSP is proud to announce the SA-2 Dialog Processor has won the Cinema Audio Society (CAS) Award for Outstanding Product in Post Production.
The SA-2 Dialog Processor is based on hardware originally conceived by Academy Award winning re-recording mixer Mike Minkler and used on over 100 major motion pictures. The SA-2 is designed to improve the overall sound of recorded speech. But the SA-2 is not just for dialog. It's equally useful for vocals, and is a great tool for adjusting the timbre of any track, a reliable de-esser, and a fine multi-frequency compressor.
The Cinema Audio Society was formed in 1964 for the purpose of sharing information with Sound Professionals in the Motion Picture and Television Industry.
A list of winners can be found at www.cinemaaudiosociety.org.
Company Statement
McDSP is an innovative and award-winning Silicon Valley audio software company founded in 1998 by Colin McDowell.  McDSP technology can be found in pro audio plug-ins for popular digital audio workstations including Pro Tools, Logic, Cubase, and Avid live sound systems. McDSP audio algorithms are also used by companies such as Audiokinetic, Bioware, and Microsoft, and in consumer products like the LouderLogic iOS audio player.