Red Hot Chili Peppers, Adele, U2 and Metallica are just a few of the iconic acts that Grammy award-winning producer and mixing engineer Andrew Scheps has been able to work with over his many years in the audio industry. Always at the forefront of technology, he was first introduced to McDSP back in 1998. "I was aware of McDSP from the very beginning. FilterBank and CompressorBank were the first two plug-ins that I ever purchased."
It's a September afternoon in the greater Los Angeles area and that means it's around 100 degrees and even under the shade it feels like an oven. Walking up a tree-lined and nondescript driveway, almost no one would know that this is the place where their favorite music comes to pass through the hands of a wizard. After the driveway and through the doorway there is a Wurlitzer, some guitar amps and cabinets, and all sorts of cases as it becomes clear this is the gear overflow section. Turning the next corner, Scheps is in his chair behind a console and an old pair of Tannoys as he waves us in.
In front of his chair and to his side are two adjacent Neve consoles and behind him is quite literally a wall of outboard gear. Analog synthesizers, compressors, equalizers and much, much more. Some of it has been with him for a long time while others are new acquisitions that he is eager to test out. The F2 just makes perfect sense to me. I can be super resonant but then hard core coming off the back end of it.Scheps has his choice of consoles, outboard gear, and especially software. A Mac and the new AVID HDX system are at the helm of the playback and editing, but there's also a pair of Studer tape machines at the ready if the situation calls for it.
Scheps has been working in audio since the console and tape machine were the two mainstays of a studio. "One of the things that got me into audio was using the gear. I always loved the fact that there's something that looks unbelievably complicated and I know how to run it. That was always a cool thing. And so I was always trying to be an early adopter and do things first. I was using Synclaviers and then hard disk recorders as soon as they existed."
When asked to name some of his proudest work, Scheps responds "In terms of music, it's really hard to say because I'm proud of a lot of different things for different reasons. Obviously I'm proud of some of the bigger, more visible stuff like the Chili Peppers records that I've been really involved in. A lot of the stuff with Rick Rubin that have been huge. But I'm also really proud of the smaller records I've produced. I've got a label now and I put out a record called 'Low Roar' with a friend of mine. I'm really proud that we did that completely on our own and got it out into the world."
One of the unique properties of the F2 in FilterBank is what drew Scheps to it in the first place. "I try to use filters in creative ways and sort of carve space for things.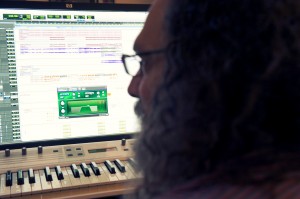 Take things that would normally be big and make them small and that's a way to have them pop out in a mix by contrast. So when doing that, filtering is a huge part of it. But when you're really trying to do something distinctive, the sound of the filter becomes a real issue. The resonance, and where the cutoff is and how much of a peak you get before it comes back down. The F2 just makes perfect sense to me. I can be super resonant but then hard core coming off the back end of it. And to be able to mess with the Q without really changing the slope, I think it's unique to those plug-ins and that is a massive part of really being able to tailor the sound and get that right."
"The room is full of analog stuff, so I'm not just reaching for an EQ. The only time I would EQ in Pro Tools is if I'm really going for something specific, and to be able to have that stuff move onto the DSP chips is huge for me."
Although he has more than his choice of plug-ins and gear, he doesn't brag about it or play favorites to one over another. After spending some time talking about music and technology it's clear to understand that Scheps is the type of person to only use tools he trusts and only when they are called for.

To see Andrew's interview, visit McDSPTV.

To hear the interview, visit our SoundCloud page. For more information about Andrew's label Tonequake Records, please check out the website at www.tonequake.com.