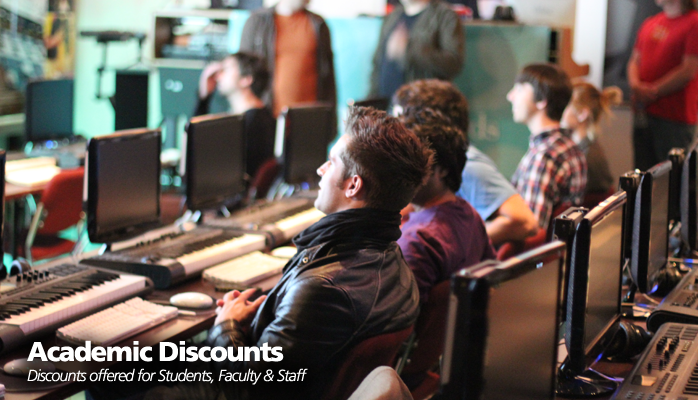 Academic Discounts
All full and part time students from higher education institutions are eligible for incredible academic discounts on individual McDSP plug-ins and bundles!
Student/Faculty discounts
Plug-ins and bundles
Full versions
We are devoted to delivering the highest quality plug-ins and want to ensure the next generation of audio professionals have access to the best. A valid student or faculty ID or other proof of enrollment is required for all purchases.
Education Program
Are you a higher education institution looking to provide access to award-winning plug-ins for all your students and faculty?
Then the McDSP Education Program is just for you.
Easy sign up
Low annual fee
Faculty access included
Eligible schools can enroll and have access to McDSP plug-ins across every single workstation for a low annual fee. For more details on how to get McDSP plug-ins for your school, faculty and student facilities, contact us at info@mcdsp.com.
Fall 2018 East Coast College Tour
Oct 13, Saturday: IMSTA FESTA at Ryerson University RTA in Toronto, ON (Free to public, click to register here)
Oct 15, Monday: Drexel University in Philadelphia, PA
Oct 16, Tuesday: Ithaca College in Ithaca, NY
Oct 18 or 19, Thursday or Friday: Rensselaer Polytechnic Institute in Troy, NY
Oct 23, Tuesday: Berklee College of Music in Boston, MA
Education Program Partners
Over 150 schools across globe have become partners in our McDSP Education Program and continue to spread the word about the value of McDSP plug-ins. Here are only a few examples:
More than 80 films per year are completed at AFI and each one depends on McDSP plug-ins to finish the sound. – Mark Henry - Sound Design Instructor at American Film Institute
"At Pyramind, all our classroom and studio computers are equipped with the latest McDSP plug-ins. Having access to these awesome sounding, easy to use plugs is great for students and teachers. Students can grasp audio processing techniques, simply, while teachers can be assured that students …

Read More