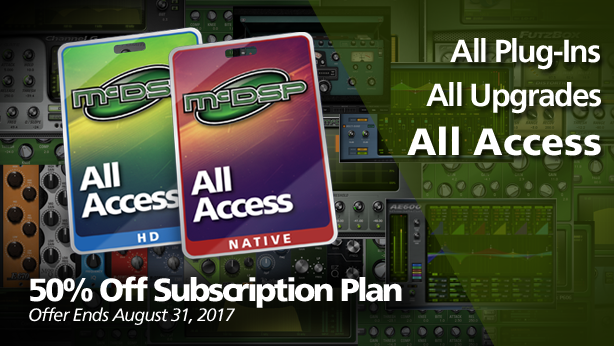 Mountain View, CA – June 1, 2017
McDSP All Access Subscriptions Now Offered in Gobbler
McDSP is proud to announce its All Access HD and Native subscriptions are now available directly through Gobbler. The All Access subscription includes all current and future McDSP plug-ins and upgrades.
Gobbler is a leading subscription marketplace for top pro-audio plug-ins as well as a free cloud based backup solution designed by and for music makers. The McDSP All Access subscription contains every v6 plug-in McDSP has made and will make in the future. Customers can now subscribe through Gobbler for as low as $14.99 per month!
Check out the McDSP All Access subscription today. McDSP is offering up to 50% off of subscriptions now through August 31, 2017. All Plug-ins! All Upgrades! All Access! Find out more at www.mcdsp.com.
Company Statement
McDSP is an innovative and award-winning Silicon Valley audio software company founded in 1998 by Colin McDowell.  McDSP technology can be found in pro audio plug-ins for popular digital audio workstations including Pro Tools, Logic, Cubase, and Avid live sound systems. McDSP audio algorithms are also used by companies such as Audiokinetic, Bioware, and Microsoft, and in consumer products like the LouderLogic iOS audio player.