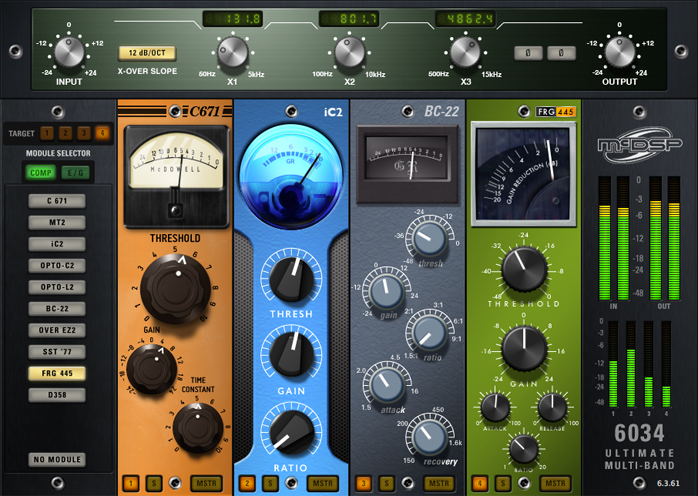 Mountain View, CA – August 4, 2017
McDSP Releases 6034 Ultimate Multi-band
McDSP is proud to announce the all-new 6034 Ultimate Multi-band plug-in is now shipping!
The 6034 Ultimate Multi-band is a flexible multi-band dynamics processor, offering all the award-winning compression, expansion, and gating modules from the highly acclaimed 6050 Ultimate Channel Strip plug-in, in a four band crossover network. Just like the 6050 modules, the 6034 Ultimate Multi-band modules can be swapped on the fly for quick auditioning while retaining relative settings. The crossover filter slopes can be configured as 6, 12, or 24 dB/Oct. Metering includes gain reduction and output levels on all crossover bands, as well as main input and output levels.
Features:
• Includes award-winning compressor modules from the 6050 Ultimate Channel Strip
• Configurable four-band crossover with multiple filter slope options
• On the fly module auditioning
• Input and output control
• Analog Saturation Modeling
• Double precision processing
• Ultra low latency
• Mono and stereo versions
The 6034 Ultimate Multi-band is an ideal tool for the master fader and individual instruments and mix sub groups. The number of compressors alone offers a wide selection of processing options. The additional expander and gate processing provide even greater flexibility, making the 6034 a great choice when tackling any mix project.
The 6034 Ultimate Multi-band HD supports AAX DSP/Native, AU, and VST while the 6034 Ultimate Multi-band Native supports AAX Native, AU and VST. The 6034 Ultimate Multi-band is available at an introductory rate for the month of August with the 6034 Ultimate Multi-band Native offered at $129 and the 6034 Ultimate Multi-band HD offered at $179. The 6034 Ultimate Multi-band initial release only supports Mac OS. Windows support is coming soon.
More information is available at www.mcdsp.com.
Company Statement
McDSP is an innovative and award-winning Silicon Valley audio software company founded in 1998 by Colin McDowell.  McDSP technology can be found in pro audio plug-ins for popular digital audio workstations including Pro Tools, Logic, Cubase, and Avid live sound systems. McDSP audio algorithms are also used by companies such as Audiokinetic, Bioware, and Microsoft, and in consumer products like the LouderLogic iOS audio player.